Introduction
Edit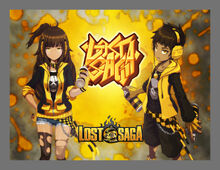 Graffiti Artist uses Spray Paint to confuse enemies, spraying it in the air to attack. Graffiti Artist uses skills like Spray, where he/she runs toward the enemy and sprays; Crew, where he/she lies down and calls his/her friend to attack; Hip-Hop, where he/she dances around and attacks the enemy; and Spy, disguising him/herself for a while to confuse enemies. Always stay alert, opponent, otherwise you'll get sprayed.
Graffiti Artist was the winning character of the "3rd Lost Saga Character Idea Contest".
Ad blocker interference detected!
Wikia is a free-to-use site that makes money from advertising. We have a modified experience for viewers using ad blockers

Wikia is not accessible if you've made further modifications. Remove the custom ad blocker rule(s) and the page will load as expected.