In-Game Currency - ZP(NA)/NX(EU) and Pesos
Edit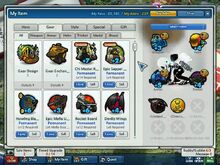 ZP/NX and Pesos are both in-game currencies used to buy items, style items, heroes, etc. in Lost Saga.
ZP/NX is linked to cash and must be bought with real money and can only be purchased through Steam (NA Only) or on the Lost Saga website.
Pesos are earned from battle, completing quests, relic hunting, fishing, etc.
ZP/NX has previously been called Astro (OGPlanet) and WP (WeMadeUsa)
The Peso also happens to be the real life currency of Mexico and the Philippines.
Ad blocker interference detected!
Wikia is a free-to-use site that makes money from advertising. We have a modified experience for viewers using ad blockers

Wikia is not accessible if you've made further modifications. Remove the custom ad blocker rule(s) and the page will load as expected.