Introduction
Edit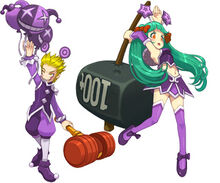 Smile Joker(KR/NA)/Jester(EU/NA) is a fast-paced, Melee hero, who runs around the battleground in his/her jester-like costume, clutching a Toy Hammer. Jester throws a Jack-in-the-Box in his/her enemy's path and flattens them like pancakes with a massive 100-Ton Hammer. When angry opponents are in hot pursuit, Jester turns him/herself into a Mini Joker and dashes out of sight. This trickster will finish his/her opponents off by tying a Balloon around them and sending them on a one-way trip to pain. Jester never loses his/her smile, no matter the circumstance. Whenever you get angry with his/her attacks, he/she will ask "Why are you so serious?"
Ad blocker interference detected!
Wikia is a free-to-use site that makes money from advertising. We have a modified experience for viewers using ad blockers

Wikia is not accessible if you've made further modifications. Remove the custom ad blocker rule(s) and the page will load as expected.